Latest News...
Fundraising Concert in Great Lumley - all invited!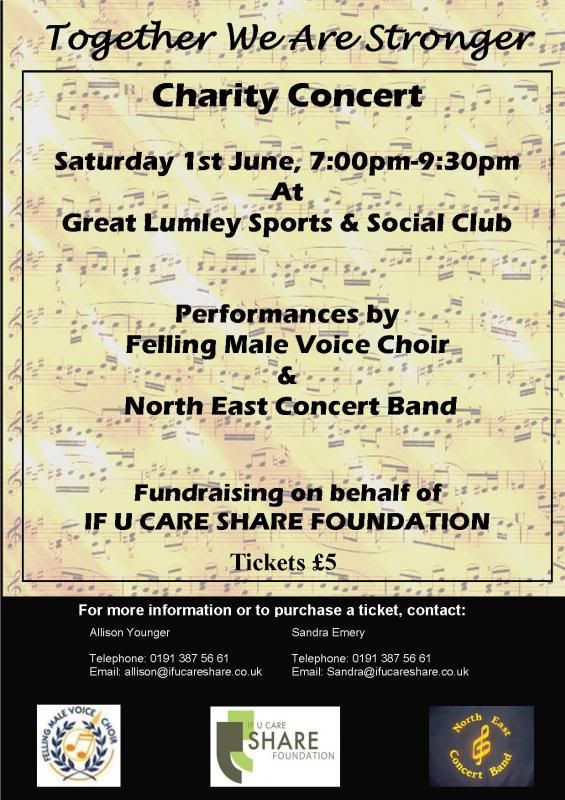 Teenage Suicide Figures Rising in Sunderland
Shirley speaks out in an article in the Sunderland Echo today about her concern over mounting statistics that teen suicide is increasing in Sunderland. Figures show 15 men under the age of 18 took their lives in 2011 in Sunderland alone. Perhaps more shockingly, 49 young people were admitted to Sunderland Royal Hospital in 2012 after attempting suicide: an increase of 44. Women are still more likely to talk about their problems with others than men. For the full article, click here.
"Exceptional" - EAMH feedback from Manchester United FC
If U Care Share received a letter of thanks from Man United FC for our Emotional and Mental Health workshop we ran with the young scholars. The letter, from Marek Szmid, said he thought "the openess displayed was very appropriate and encouraged others to come forward if they are having any problems." He describes the workshop as very professional and engaging. For more information see our news page.
If U Care Share nets grant from Cestria Community Housing
If U Care Share Foundation has been awarded £700 from Cestria's Community Housing Community Benefit Fund, which supports local projects that meet important needs in the areas it operates.
The cash will help the foundation's staff and volunteers to deliver awareness raising workshops in schools and sports clubs across the North East.
http://www.24dash.com/news/housing/2013-02-27-If-U-Care-Share-nets-grant-from-Cestria-Community-Housing
New Statistics Show Suicide Increase
Latest statistics released from ONS for 2011 show an increase of 437 suicides in ages 15 and over compared with 2010. The UK suicide rate increased significantly between 2010 and 2011, from 11.1 to 11.8 deaths per 100,000 population. There were 4,552 male suicides in 2011, a rate of 18.2 suicides per 100,000 population, and 1,493 female suicides, 5.6 per 100,000 population. This week IUCSF have contributed to various media pieces around the increase; a full report on the latest statistics can be accessed via the ONS website here. This re-affirms the need for suicide prevention and bereavement services for those touched by suicide. Anyone who feels at risk should contact their GP or, in case of an emergency, the emergency services.
Click here to read an article published in the Journal on 5th February 2013 where Shirley talks about the increase in suicides and why If U Care Share's work is more relevant and important than ever.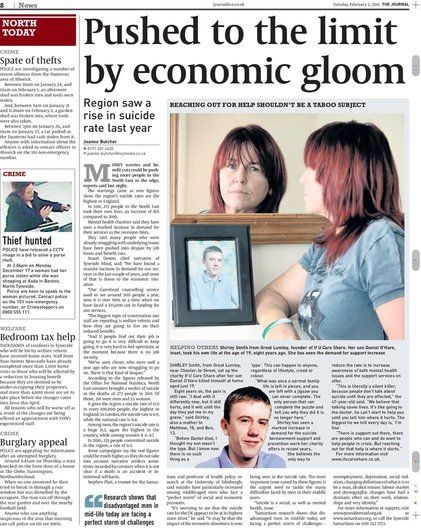 Youth Mental Health Training Courses - Sign up now!
If U Care Share Foundation have been commissioned by NHS Co Durham and Darlington CAMHS Commissioning Group to deliver a number of Youth Mental Health Training courses, within Co Durham, over the coming year. The courses are open to individuals who live or work in the Co Durham area, who teach, work or care for young people aged 11-18yrs. Further details of the course content are given in this flyer.
The courses are free of charge and the dates are detailed below. To sign up please fill out this booking form and return to sandra@ifucareshare.co.uk
If you find you can no longer attend, please let us know with at least a week's notice. Due to late cancellations we have had to impose a £50 cancellation charge for late notification or non-attendance. Thank you for your co-operation and we look forward to seeing you on one of the courses soon!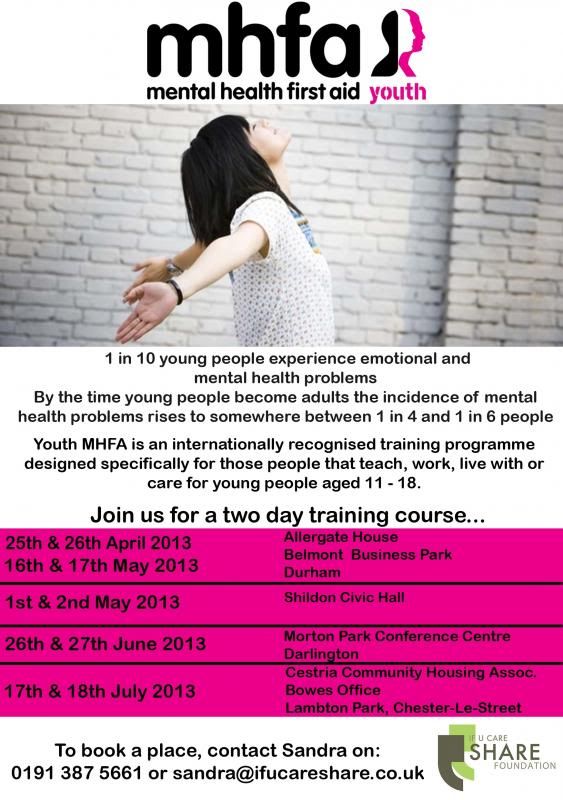 Celebrating Our Achievements of 2012: